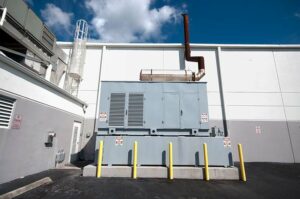 Installing a commercial generator for your facility can help keep your business running even during power outages. Therefore, many see standby generators as important investments for businesses. If you've decided to buy a commercial generator, the next step is to determine the location of your generator installation. There are many considerations for generator placement. Let's go over a few to help you plan for your company's generator. 
Where to Install a Commercial Generator?
The first thing to think about is generator placement. The location of your generator can make a huge difference in reliability, longevity, and more. Keep in mind that there are many codes that apply for standby generator location. These are typically to help reduce health and safety risks for things like fires and carbon monoxide fumes. Always check applicable codes from local, state, and federal authorities before installing a commercial or industrial generator. In addition, most manufacturers will have recommendations for installation procedures, including the location of your generator. It's important to follow these regulations and guidelines. However, here is some general information to help you consider placement for your business' critical power generator. 
Indoor vs. Outdoor
One of the first questions to ask yourself is whether it's best to install your generator inside or outside. Placing your commercial generator outside is the most common for businesses. This is because generators located outdoors typically have plenty of ventilation, airflow, and clearance to meet installation recommendations and restrictions. This involves building a weatherproof enclosure for your generator unit to protect the machine from weather and debris. 
Installing a generator inside is also an option, though less common. This is because critical power generators typically require a significant amount of space and also require sophisticated ventilation systems to remove fumes and heat from the generator. However, indoor generators are often better protected from extreme weather and offer easier access for many facilities.
Other Things to Consider
Also, it's important to think about other ways generator location affects operation. Accessibility is a big one, as generators need regular testing and maintenance. While operating, you may also need to have easy access to refuel the engine. In addition, most facilities place generators as close as possible to the main electrical room to reduce the electrical conduit needed. 
Sound ordinances are also important to consider. Generators can be noisy, which also affects where you want to place them on your commercial property. For instance, generators located indoors may make the work environment too noisy for productivity and may also violate OSHA guidelines for noise levels. Local noise ordinances can also affect how closely to the property line outdoor generators can be placed. 
Buy a Commercial Generator from Generator Country – Your Trusted Source for Generators
Whether you need new or used generators, our team at Generator Country has solutions for you. We buy and sell commercial and industrial generators and provide the highest quality services for your power generation needs. Our team works with you to determine your needs and find the ideal unit for your facility. We also help you get the most value out of your generators by purchasing used generators as-is. Call us now at (832) 207-1201 to discuss your generator needs with our experts.