Looking to purchase a commercial generator?
When you buy a new commercial generator from Generator Country, you won't be disappointed. While we also sell used generators, there is no reason to be concerned about how it was maintained previously or how many hours of operation the unit has logged. A commercial generator is similar to the generators used in residential applications except they are larger in size and capability, and can provide power to large factories or facilities that are crucial to a business's bottom line. Our large selection of generators can be equipped with various options to fit any commercial or industrial power need. Whether you are looking to purchase a diesel-powered generator or natural gas, our staff is ready to assist!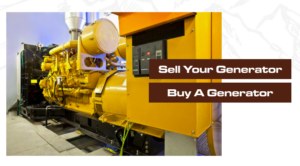 The benefits of purchasing a new commercial generator are immeasurable. Our new generators come straight from the factory, have the newest technological advances, and are built to order. To ensure you get the most out of your generators our team will help you pick the generator best suited to your commercial needs and specifications. 
All new generators come with a manufacturer warranty to grant you peace of mind. Many different types of commercial applications can reap the benefits of a new generator, and there's quite a variety available to fit any power generation needs. The experts at Generator Country can help you determine the best commercial generator designed to fit your needs, by calculating how much power your facility uses, determining the best fuel source, and helping you secure the unit.  
The Importance of Critical Power Generators
In February 2021 Texas was impacted by a series of winter storms that left the state without power for 2 weeks and resulted in a statewide power crisis. Losing power can cause disruptions and can sometimes come at the cost of human lives especially in healthcare facilities where having power is integral to their operation. Critical power generators are used extensively in the medical field. Industrial and commercial facilities, where these types of power generation are used, are: 
Hospitals 

Nursing homes

Urgent care centers 

Outpatient surgery centers

Clinics 

Pharmacies 

Long-term care facilities 

Physician offices  

Dental offices 

Emergency rooms 
Standby generators are crucial in the event of a power outage to keep vital equipment running. When the power goes out in a medical facility, lives are at risk. When healthcare facilities like the ones mentioned above depend on Generator Country, they are trusting us to keep the power on. Our team works with the healthcare industry to find the best solution that fits the needs of their facility.  Local, state, and federal laws require healthcare facilities to have backup generators to ensure the health and safety of patients. We provide the solutions needed in accordance with NFPA 101 Life Safety Code and NFPA 110 Standard for Emergency and  Standby Power Systems, these codes help determine the minimum requirements for your facility and can help us better serve you and your business. 
When severe winter storms hit Texas in February of 2021, the entire state was without power for 2 weeks. Natural disasters like severe winter storms can hit at any time it is important for cities to prepare themselves for any situation. Large commercial generators can help ensure the safety and wellbeing of everyone involved especially in big cities and Being ready for anything helps ensure the safety and wellbeing of everyone in a metropolitan area. At generator Country, we provide power to places that are crucial to keeping a city running, such as : 
911 call centers

Police stations 

Fire Stations 

City buildings 

Water treatment plants 

Flood stations 

Substations 
Critical power generators can help businesses and even cities stay afloat in times of crisis, ensuring the health and safety of a community. Natural disasters are occurring more frequently and at alarming rates, Generator country can help! Call us today and ask about our generator solutions.