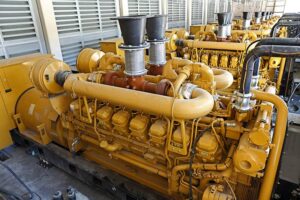 There are many reasons you might have surplus equipment around, including generators. Maybe you purchased the generator set and realized you needed larger power capacity, or perhaps you acquired the generator to accommodate a prospective tenant that fell through. Whatever the case, it's important to know that you can sell an industrial generator. In this article, we'll explain some of the benefits of selling surplus generators and different options for selling your generator.
Reasons to Sell an Industrial Generator
There are many reasons to sell an industrial generator your facility doesn't need. If you have a surplus industrial generator, then selling it does many things for your business. 
First, you get cash on hand. An unused generator can actually be worth quite a lot. People are always looking for generators with few operating hours. Therefore, you could sell an industrial generator for cash and use the money for other things, like purchasing other assets or investing in capital improvements. 
Another reason to sell your surplus industrial generator is to free up space. For many facilities, each square foot of space counts. Surplus industrial equipment, like generators, takes up a lot of room, and that space could be better used for extra storage or things that actually help your operations. Selling your generator gets it out of the facility so you can better use that extra space. 
Also, selling your surplus generator is an act of sustainability. This way, a generator you don't need gets used by someone who does. This keeps it out of a landfill and also helps another organization in need. So, it's a great solution for industrial generators you don't use. 
How to Sell a Surplus Generator
There are actually many ways to sell an industrial generator. However, they typically fall into two categories: selling it yourself or selling it to a dealer. By and large, selling industrial equipment to a dealer is typically a much better option for most facilities. 
When you sell your surplus generator to a dealer like Generator Country, we take care of many things for you. We offer a cash deal and can take care of decommissioning and removal for you. Our team also handles the logistics and costs associated with transportation, repairs, and refurbishment as needed. We find the buyers and answer their questions and do all the leg work for selling the generator. All you have to do is reach out, answer some questions about the generator, and accept our deal. We take care of the rest. 
By contrast, selling your critical power generator on your own is an option, but can be quite a hassle. Some facilities choose to do this through platforms like Craigslist or eBay and must take care of handling the listings, any questions form potential buyers, and negotiating with buyers. In addition, you must take care of removal and transportation to the buyer in most cases. Overall, it can be an expensive headache to sell a generator on your own, which is why many people sell to a trusted dealer like Generator Country.
Generator Solutions from Generator Country
If you have an industrial or commercial generator you don't need, get in touch with our team at Generator Country. We buy and sell used generators throughout the country. Our team is focused on providing top quality service and building lasting relationships with our clients, whether you need a generator or want us to take one off your hands. Contact us today to discuss your generator needs with our experts.