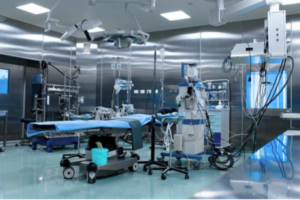 While industrial generators are necessary for most commercial establishments, they are absolutely essential to the medical field. Due to the nature of their work, doctors and medical offices losing power can quickly become a catastrophic event in a hospital or operating room, and having a working power generation backup plan is essential when a patient's life is at risk. When emergencies arise or backup generators become old and questionable, keep Generator Country in mind. Generator Country can help keep any medical facility up and running effectively even through the harshest storms. Generator Country has a variety of industrial power generators to choose from to keep your staff and patients safe. If you are in the medical field and require commercial or backup generators – GC has you covered!
Be sure to completely understand your healthcare facility's needs before purchasing the right industrial generator. These guidelines are set in place to keep patients safe in power outages, natural disasters, and simple power grid failures. While you can't control power outages – you can prepare for them! Power outages can occur for several reasons and when the lights go out in an operating room, doctors are liable for surgical mistakes, transfusions, and medication errors. Having a backup or standby generator is imperative and reduces the risk of human error during any medical procedure or scheduled operation. 
Understanding the Importance of an Industrial Generator
Unless you know the difference between a standby generator and a normal generator, it is safe to assume that you are unaware of the importance of standby generators to medical institutions. Many life-saving medicines and vaccines need to be refrigerated to risk spoiling. Standby generators are essential in keeping critical equipment running at all times. Some of the machinery that needs to run continuously in a hospital includes defibrillators, ventilators, emergency lights, as well as, HVACs, and communication systems. The NFPA 101 or the Life Safety code, "ensures that the strategies used to protect people based on building construction, protection and occupancy features that minimize the effects of fire and related hazards." The Life Safety Code is the only document that openly discloses life safety expectations and procedures in both new and existing structures. In fact, according to this document, emergency generators must turn on within ten seconds after initial power is lost to adhere to the "Life Safety Code" regulations. These codes can tell you the minimum requirements for your facility, depending on the type of healthcare facility you operate in, and are integral to continued certifications in some areas.
Disruption of Resident & Patient Care
When Texas experienced the freeze of winter storm Uri in February of 2021, millions of Texans faced power outages lasting longer than a week including a large sector of the elderly population. The truth of the matter is that you never know when inclement weather or an inexplicable power outage will occur and it is better to be over-prepared rather than unprepared. Industrial generators are also needed to minimize adverse events in nursing homes and specialized memory care facilities. Many of the elderly population use elevators to move around properties. If the power goes out,  mobility is not only limited, but the risk for falls and other injuries dramatically increases. For those in long-term care facilities, cooling systems are needed for pharmaceutical refrigerators, food, and other medical equipment. If food isn't kept at proper storage temperatures, not only can that pose potential health concerns for patients and residents, bottom lines can be affected. Generators are an integral part of any patient safety program. Without a proper backup system in place, a power failure within an assisted care facility could be horrific. 
Why should you choose Generator Country?
Generator Country can help you keep life-saving equipment online, help you purchase a industrial generator, or even buy your existing standby generator so you can purchase a newer, more modern power generation supply. This will minimize patient disruption, and keep your facility safe in the event of an unforeseen power outage. Our trained experts specialize in finding the generator that is the right fit for your facility. We provide reliable long-lasting solutions and relationships that will keep the power on and keep you satisfied for years to come. Call us today!